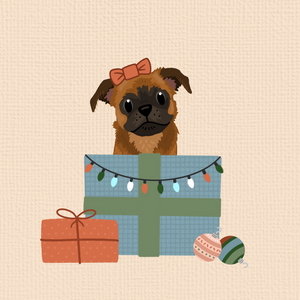 This is a 5x5 or 8x8  inch print! If you'd like it printed please message me before hand. 



**IF YOU ALREADY ORDERED A PUMPKIN PET AND WOULD LIKE THAT PORTRAIT USED, PLEASE CONTACT ME VIA EMAIL OR INSTAGRAM TO GET A $5 OFF CODE**
The price is per pet! If you want two pets done, please change the quantity. You will get your pets face added to these exact presents. I can change colors slightly to match whatever background you choose. 
YOU NEED TO ORDER THIS TO ORDER CUSTOM PRESENT PET STICKERS!!!